Curriculum | Course Descriptions | Jobs | Admission Requirements

Funeral Service Technology (Ridgeland)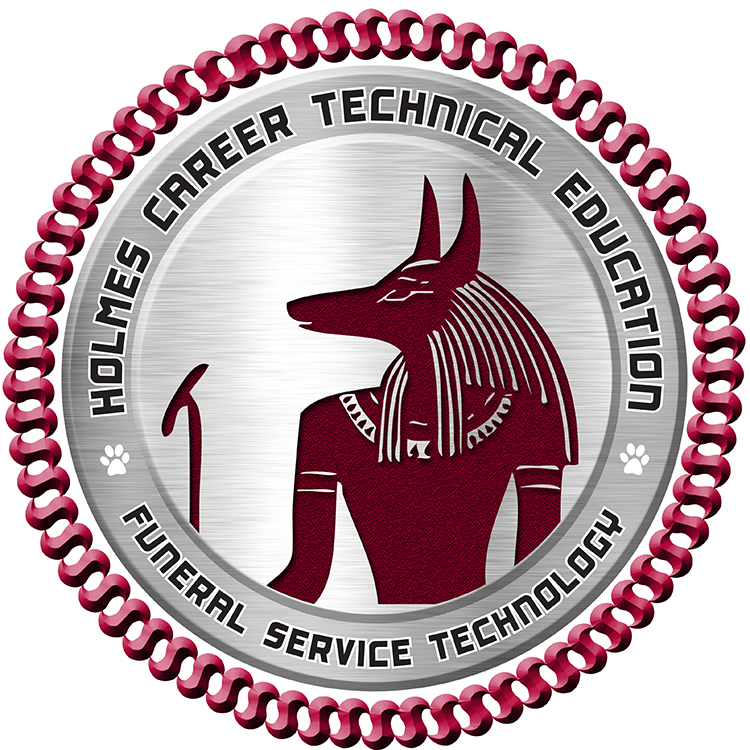 Contact Information
Thomas Garrett (Click to email)
Director, Funeral Service Technology
Madison Hall 204
Ridgeland Campus
601-605-3327

David R. Jones (Click to email)
Instructor, Funeral Service Technology
Madison Hall 210
Ridgeland Campus
601-605-3323
The Funeral Service Technology degree program at Holmes Community College is accredited by the American Board of Funeral Service Education, (ABFSE), 3414 Ashland Avenue, Suite G, St. Joseph, MO 64506; phone: (816) 233-3747; fax: (816) 342-2573; web: www.abfse.org. This program leads to an Associate of Applied Science (AAS) degree.
The goal of the program is to provide training that prepares students for entry-level positions after graduation and licensure. The curriculum is designed to provide students with ethical and professional knowledge in Funeral Service Education, exposure to career options available within the Funeral Service field, and experiences in the application of ethical and professional skills while emphasizing aspects of public health.

The central aim of the program is recognition of the importance of funeral service education personnel as:
members of a human service profession,
members of the community in which they serve,
participants in the relationship between bereaved families and those engaged in the funeral service profession,
professionals knowledgeable of and compliant with federal, state, provincial/territorial, and local regulatory guidelines (in the geographic area where they practice), as well as
professionals sensitive to the responsibility for public health, safety, welfare in caring for human remains.
The objectives of the program are the following:
to enlarge the background and knowledge of students about the funeral service profession,
to educate students in every phase of funeral service, and to help enable them to develop the proficiency and skills necessary for the profession,
to educate students concerning the responsibilities of the funeral service profession to the community at large,
to emphasize high standards of ethical conduct,
to provide a curriculum at the post-secondary level of instruction, and
to encourage student and faculty research in the field of funeral service.
National Board Examination pass rates, graduation rates, and employment rates for this and other ABFSE-accredited programs are available at www.abfse.org. To request a printed copy of this program's rates, go to Room 204C, Madison Hall, Ridgeland Campus or by email at tgarrett@holmescc.edu, or by telephone 601-605-3327.
NATIONAL BOARD EXAM STATISTICS - Holmes

# Takers

# Passed

% Passed

2012 ARTS

13

10

77%

2012 SCIENCE

13

13

100%

2013 ARTS

7

6

86%

2013 SCIENCE

6

6

100%

2014 ARTS

5

2

40%

2014 SCIENCE

5

2

40%

2014 PROGRAM INFORMATION

# OF NEW

STUDENTS

# OF

GRADS

TIMELY

GRAD *

%

EMPLOYED

LEFT BEFORE

COMPLETION**

15

7

33%

100%

3
* Timely graduation = complete program in 1½ times designated program length.
** Left before completing the program; did not finish.

Funeral Service Technology Continuancy & Graduation Policy
All Funeral Service Technology/FST courses, ACC 1213-Principles of Accounting I, the computer literacy course, and BAD 2413-Legal Environment of Business must be passed with a minimum of a C in order to complete the program and graduate.
FST 2812 — Comprehensive Review must be taken in the last semester of coursework.
Students who have not completed an FST course for two consecutive semesters (full semesters of fall & spring) must retake all FST courses previously taken.
Students must make a final grade of C or higher on all FST courses attempted in a semester in order to progress to the next semester.
The Funeral Service Technology Department is dedicated to training individuals in all technical and clinical areas of funeral service and to help them develop the skills necessary to enter the funeral service industry at an entry level.