Ridgeland Campus graduates Surgical Technology Class of 2018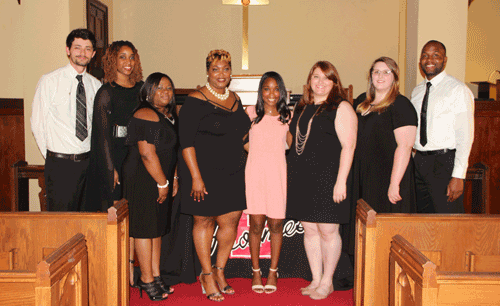 The Holmes Community College Ridgeland Campus held a Pinning Ceremony for the Surgical Technology Class of 2018 on June 28 at Madison United Methodist Church. Seven students were honored.
Graduates included: James Baggett of Byram, Samone Blue of Brandon, Amanda Duke of Florence, Madeline Espinosa of Madison, Ebonique Green of Jackson, Corby Pace of Flora and Danielle Robinson of Flora.
The ceremony began with a processional of the graduates, followed by an invocation given by Espinosa. Following the prayer, District Director of Career-Technical Education Dr. Amy Whittington welcomed the crowd before Green stepped up to introduce the guest speaker, Holmes alumna Chynna Phillips.
Phillips was the salutatorian for the Holmes Surgical Tech Class of 2017. She now works as a certified surgical tech for the University of Mississippi Medical Center (UMMC) Day Surgery Center, specializing in ear, nose and throat (ENT), orthopedics and plastic surgery. Last year, she served as a Mississippi Delegate for the Association of Surgical Technologists (AST) during the national convention held in Orlando, Florida.
"Congratulations guys, you did it," Phillips said. "This past year was probably one of the most sleep deprived, difficult, stressful 12 months of your life, but you made it! Although you are finished with this accomplishment, you are only just getting started. Don't worry, though, you are ready. Every chapter you have read, every test you've taken, every surgery you've gotten to scrub in to have prepared you for this next step.
"You have chosen a rewarding, exciting profession," Phillips said. "Always be proud of what you do. It takes a special type of person to do what we do. We are the backbones of the operating room. Your backbone is the support system for your body. Without it, your entire torso would collapse. Without surgical technologists, the OR would have no support. We're the first ones in the OR and the last ones out. We're ready and prepared for any and all possibilities. Sometimes, like a backbone, we ache. We get sore from being on our feet so long and holding surgical equipment. Like I said, it takes a special person to do what we do.
"A few pointers have helped me along the way. Number one: breathe. Inhale and exhale. When you're stressed out and have a million different things you're trying to do at the same time, remember to take a deep breath in, deep breath out: it works, I promise. Number two: Stop and think about what you are doing. What're the steps to the procedure? What's the first thing the surgeon's going to need when they walk in the room? Then go from there. Finally, if you have not gotten a job offer yet, remember to never stop asking. Keep sending out resumes, keep making phone calls and keep sending follow-up emails. Take the first thing you can to get where you want to go. Also, don't forget to have fun! If you love what you do you never work a day in your life, right? Enjoy what you're doing and always be excited to have the initials after your name C.S.T. for certified surgical technologists. Congratulations!
Following Phillips' address, Travia "Shea" Coleman, instructor for the Ridgeland surgical technology program, approached the podium to present awards. Baggett was named valedictorian for having the highest GPA out of all the Ridgeland Campus surgical technology students and Espinosa was named salutatorian for having the second highest.
After the awards were given, Career-Technical Education Counselor Allison DeWeese called the students to the stage one-by-one to receive their certificates and pins. Ridgeland Campus Vice President Dr. Don Burnham and Dr. Whittington presented certificates before Coleman pinned each young lady. Following the pinning, Dr. Burnham addressed the graduates one final time.
"Our faculty here at Holmes cares deeply about the success of our students," Dr. Burnham said. "Our counselors care deeply about the success of our students. And we know that all of you - the parents, spouses, children, and other family members and friends – care about their success, as well. Graduates, you have persevered and succeeded. Your role is very important in the operating room or wherever you end up working, so always take your job very seriously. Remember to keep your integrity. I'll say it again, always keep your integrity. Remember Holmes Community College, and know that we are here for you. We hope you'll come back to see us. May God bless each of you and may your lives reflect His glory as you move on to the next chapter."
The graduates recited the Association of Surgical Technologists (AST) Code of Ethics before Johnson concluded the ceremony with the benediction.
For more information about the Surgical Technology program on the Ridgeland Campus, contact Coleman at (601) 605-3396 or tcoleman@holmescc.edu.
###
IN THIS PHOTO: Pictured is the Ridgeland Campus Surgical Technology Class of 2018 with (center) Instructor Shea Coleman. The class consists of: (left to right) The graduates are (left to right) Corby Pace, Ebonique Green, Samone Blue, Danielle Robinson, Madeline Espinosa, Amanda Duke and James Baggett.