Dr. Robert Harris presents his dissertation to McMorrough Library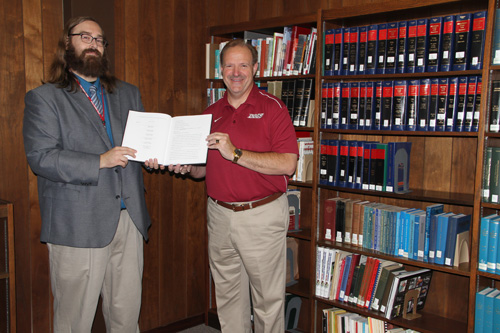 Longtime Holmes Community College employee Dr. Robert Harris of Goodman presented Holmes Community College's McMorrough Library today with a bound version of his recently completed dissertation from Mississippi State University.
Dr. Harris has been at Holmes since 1986 and currently serves as a computer science instructor as well as being the Director of Compass Testing and the Associate Chair for the Mathematics and Computer Science Department. He spent lots of time in McMorrough Library doing research for his dissertation "Use of Standardized Test Scores to Predict Success in a Computer Applications Course" so the library's Mississippi Room was the logical choice to archive his dissertation.
"In my first course of the doctoral program, I spent quite a few hours in the Mississippi Room of the Goodman Campus library researching the Mississippi Code Annotated for my legal issues in higher education course," Dr. Harris said. "It seems only fitting that I should present the library with a published copy of my finished dissertation for the Mississippi Room. I am a proud employee of the school, and the invaluable data I was able to collect from Holmes directly led to the completion of my dissertation and Ph.D."
The purpose of the study was to see if a relationship existed between ACT scores and student success in a computer applications course at a Mississippi community college since each semester a variable number of community college students are unable to complete an introductory computer applications class with a successful course letter grade. For the study, success was defined as earning a grade of A, B, or C, and non-success was defined as receiving a D, F, or W.
Much of the research literature involving ACT scores seemed to center around such courses as reading, English, and mathematics rather than application towards computer classes. In his research, Dr. Harris examined course data in CSC 1123 – Computer Applications I from a Mississippi community college covering the time period of fall 2010 through spring 2012. Student demographic data was also collected in order to identify group characteristics of the sample population.
Findings from Dr. Harris' research indicated a statistically significant relationship between ACT scores and the success category but not so much for the non-success group. For each point increase in composite ACT score, the student chance of success increased by 18%. Science reasoning was found to be the strongest individual ACT score predictor with chance of student success increasing by 12% for each point increase in score. Non-successes in the study were found to be for a reason other than performance ability as indicated by the ACT test.
Dr. Harris is a native of Jackson and a 1981 graduate of Crystal Springs High School. He received his B.S. in Computer Science in 1985, his M.A.T. in Community College Education with emphasis in Computer Science in 1986, and his Ph.D. in Community College Leadership in 2014, all from Mississippi State. He began his 29th year with Holmes on Aug. 1.
"I came to Holmes in the fall of 1986 when it was still Holmes Junior College and have been a part of this institution ever since," Dr. Harris said. "There was, and still is, a family atmosphere at Holmes not only between the faculty but also with the students. I have been especially blessed with my wonderful department of professional and caring members."
"I wanted to complete this doctorate to honor the memory of my parents and to honor all of those people who have been so supportive of me in my educational endeavors over the years," said Dr. Harris.