Walter Jones enshrined in the Pro Football Hall of Fame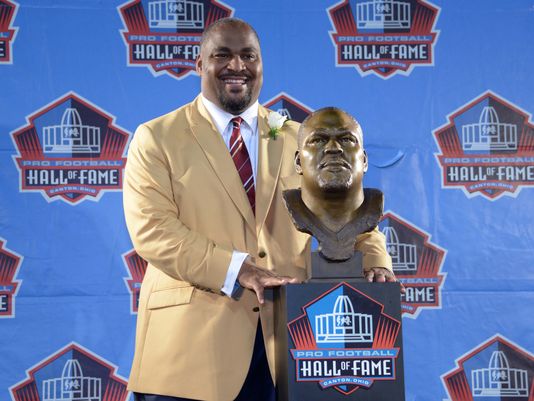 By Steve Diffey
Associate Athletic Director for External Relations
Holmes Community College
CANTON, Ohio --- The old adage "Actions speak louder than words" fits former Holmes Community College Bulldog Walter Jones to a tee on the football field, but Saturday night in Canton, Ohio, at the Pro Football Hall of Fame Ceremony, Jones was altogether different as he went down a lengthy list thanking all those who helped him through his amazing high school, college and professional football careers.
Joining Jones in the Pro Football Hall of Fame were Derrick Brooks, Ray Guy, Claude Humphrey, Andre Reed, Michael Strahan, and Aeneas Williams.
Jones of Aliceville, Ala., played in the 1993 and 1994 seasons for the Holmes Community College Bulldogs and was named the Clarion Ledger's Mississippi Junior College Player of the Year in 1994. At Holmes, Jones was 6'5 and 265 pounds and played both offensive line and tight end. At Holmes, he only allowed one sack in two seasons.
After Holmes, Jones transferred to the Florida State University. He redshirted his first year at Florida State and then played his junior year at Florida before making the jump to the NFL. At Florida State, Jones started in 11 games and the Sugar Bowl for the Seminoles and allowed one sack during the season and was named Second Team All-ACC. He decided to forego his senior season and enter the 1997 draft.
The Seattle Seahawks saw Jones' potential and traded up in the 1997 NFL Draft in order to select him. The move paid off over the next 12 seasons (180 games) as he solidified himself as the cornerstone of the Seahawks offensive line while becoming one of the finest tackles in the NFL.
Jones' son Walterius recorded the Hall of Fame intro for his dad and then helped him uncover the bust before Jones began his speech before thousands at the NFL enshrinement ceremony.
"I am truly blessed," Jones said. "To my fellow Hall of Famers, I am so honored to wear this gold jacket, No. 284 of 287. I'll wear it with pride, and I promise to respect all it represents as long as I live. "Believe me, I have an attitude of gratitude for so many people who helped me become who I am, and today I want to share with you who I am." Jones then thanks his mother, brothers and sisters, his children, his ex-wife and his relatives who have passed away.
"My family means the world to me," Jones said. "We may not have had much, but Mom always made sure we had everything we needed. With eight kids, that can be tough. Occasionally the power would go out or we might not have enough food in the morning. But understand something, we were never in the dark and never went to bed hungry. That is a true testament to my mother Earline Jones. "Mama, I love you. Thank you for all your hard work, determination, and perseverance. No matter how tough things got, you treated us the right way. Mama, I remember many nights hearing you cry and pray. Now as I stand here, I can say that prayer does have the power of change. You always supported me and the decisions I made. Speaking for the rest of my siblings, you should take such pride in the family you raised. You're the real Hall of Famer. You set such an example for your kids and grandkids. We all love you so much. Thank you." Jones talked about his football beginnings at Aliceville High School with Coach Pierce Macintosh. "Coach Pierce Macintosh approached me and asked me have you ever played football or thought about playing? Which I hadn't. He immediately took me to the fields. Afterwards, I said, what do you think? He said, I think you're a million dollars walking around broke.
"Coach, you saw something in me that I didn't see in myself. You pushed me and believed in me. You came along at a perfect time in my life. You taught me discipline and work ethic. Your motto, better is possible, and good is not enough. Everything I learned from you in high school, I used in my pro career. I hope I made you proud. Thank you." He then thanked French Camp, where he finished his studies and graduated so that he could continue his football career. "If not for this wonderful school, I wouldn't be standing here tonight," he said.
He then moved on to Holmes where he played two outstanding seasons in the MACJC and the NJCAA. "To Coach Robert Pool and Glenn Davis and Holmes Community College, I am so glad I passed the eyeball test," Jones said. "You were my home away from home. Thank you for my first college football experience."
"We just stumbled upon him," said Robert Pool, Holmes' coach at the time.
A Holmes Community College assistant coach stopped by the school for what amounted to a courtesy visit and found this 24-karat football prospect.
And that's how the college career of a future Hall of Fame lineman started. Jones didn't qualify to enroll at Florida State in 1993 so he spent the next two years flattening opponents and dropping jaws at Holmes Community College.
"The kind of guy you dream about being able to get and coach," said Hugh Shurden, the assistant coach who first found Jones and recently retired as athletic director at Holmes.
Jones then thanked Florida State and all players, coaches, fans and anyone associated with the Seattle Seahawks, where he played his entire NFL career.
"Football has been a blessing," Jones said in closing. "It has changed my life and those around me. It is a bond that keeps a family together, and provided opportunities where there was just inspiration and determination. The thing I've learned along this incredible journey, I'm not only cheering for the rest of my life, but pass it on to anyone that loves the game. Thank you, go Seahawks, and I love Seattle."
His ability on the football field was evident from the start. He earned the starting left tackle spot during his rookie training camp, was named the NFL Offensive Rookie of the Month in October, and selected as a consensus pick for multiple all-rookie teams that year. Jones provided blindside protection for quarterback Warren Moon as the Seahawks topped the NFL in total passing yards that season.
Following the 1999 season, Jones became the first offensive linemen in Seahawks history to be elected to the Pro Bowl. It marked the first of a team-record nine All-Star nods he received in his career.
His level of play continued to escalate and in 2001 he was recognized with his first selection as a first-team All-Pro. Highlights that season included Jones and his line mates opening holes for Shaun Alexander's 266-yard day that, at the time, was the fourth highest single-game rushing total in league history.
Jones earned first-team All-Pro honors five more times (2002, 2004-07). Seattle possessed what was arguably the NFL's finest left side at the time with Jones entrenched at tackle alongside perennial Pro Bowl guard Steve Hutchinson. A team leader, Jones was an integral part of Alexander's MVP season in 2005. Jones helped his running back chalk up a franchise-record and league-high 1,880 yards while establishing the then NFL mark for touchdowns in a season (28) as Seattle led the NFL in scoring with 452 points.
Jones' team-record 10 playoff starts included the 2005 NFC Championship Game and Super Bowl XL. In all, he played in 180 regular season games during his career. He was a first-team selection of the NFL's All-Decade Team of the 2000s.
On Thanksgiving 2008, Jones succumbed to a knee injury and played in his last game. The injury required microfracture surgery to repair his knee. He tried again to play in 2009 but was unsuccessful because of the knee injury. He was placed on injured reserve and had all intentions to play in 2010 but decided he would retire from the Seahawks.
During Jones' career, the Seahawks attempted 5,500 passes, and he gave up 23 sacks and was penalized only nine times. On Feb. 1, 2014, he was selected to the Hall of Fame in his first year of eligibility.
Since that time, the Seahawks have retired his number and also honored him with Walter Jones Day on April 30. Jones' No. 71 is one of four numbers retired including Steve Largent's No. 80, Cortez Kennedy's No. 96 and No. 12 in honor of the fans in Seattle.
The Seattle Times contributed to this story.