Three longtime Holmes employees retire at semester's end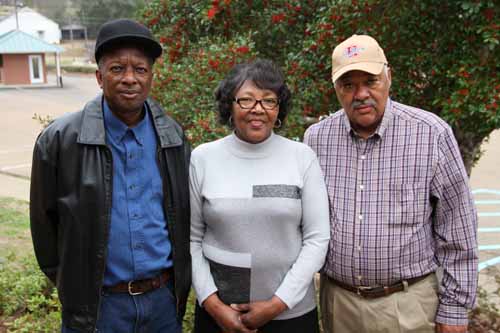 Robert Wade, Eva Mabry and Johnny Mabry announced their retirement at the end of first semester after nearly 100 years of service to Holmes.
When faculty and staff from Holmes Community College's Goodman Campus return from Christmas break it won't take them long to notice the absence of three longtime fellow employees, who retired at semester's end.
Eva Mabry, Johnny "Hotman" Mabry and Robert Wade announced their retirement just before students and faculty left for Christmas. The three have nearly a century of service to Holmes Community College combined. Eva Mabry has 40 years, Robert Wade has 36 years and Johnny has 20 years. All three reside in Goodman. Eva grew up in Sallis and Robert and Johnny grew up in Goodman.
All three are associated with the maintenance department. Eva Mabry worked in housekeeping while Johnny was the director of landscaping and Robert was a maintenance supervisor.
Eva Mabry's first building was Yazoo Dorm. She then moved to the administration building and then to the president's office and Holmes House while also helping in other buildings as well. "I enjoyed working here," Eva Mabry said. "I enjoyed the employees and my employer also. Everybody was nice. I got along with everybody and that was important to me. I'll miss it."
When Johnny came to Holmes, he worked in housekeeping taking care of the Cook Dorm for two years before moving to the newly-created Landscape Department, where he became director eight years ago.
The landscape department employees have a huge part in making sure the campus is looking great for faculty, staff, students and visitors to the campus. "That was very important," Johnny Mabry said. "We had a lot of visitors coming and looking forward to the comments the visitors gave us. We always had to make sure the campus was looking good."
"I'm going to miss the people," he said. "I'll also miss the guys I work with and the people in administration."
Johnny Mabry's crew takes pride in special events such as Homecoming, Graduation and Freshman Friday along with placing Christmas decorations all over campus. "We've been doing Christmas decorations for the past 18 years," Johnny said. "The kids like to see that especially when they get ready to go home for Christmas. I know there's a student from Mississippi State who would always come through to see what the campus looks like."
Wade came to Holmes a year and eight months under a federal program before he was hired on full-time as did his father, Percy, who retired from Holmes after 16 years here. When he first came to Holmes, he worked on the yard crew cutting grass and other campus jobs. He then moved to the maintenance department, where he became a supervisor some 18 years ago. He was responsible for the custodians and different aspects of building maintenance. "I had to go through the buildings to make sure things were looking alright."
"I'm going to miss the people and being around them," Wade said. "I'm going to miss coming up here. I've been coming up for 36 years, and I'll miss that. I'll miss all my co-workers. I'm proud to be here 36 years. The main thing is that lived right here. It didn't take me more than 4-5 minutes to get the work. So I was right at home so I liked that."
Wade said he's seen Holmes change a lot over the years and mentioned several new dorms and the addition of the welding and mechanic shop in the career-technical department. "They have done a lot of changing since I've been here," Wade said. "I think it's for the better. It really looks nice. Some years ago, we planted more trees around here. They have grown and look nice."
Wade said he always looked forward to graduation day at Holmes, where he and his crew were responsible for setting up the stage and chairs for the graduates along with stripping and waxing the floors leading to the commencement floor.
"We have to go through a lot to set up for graduation," Wade said. "We set up 200 chairs, and they have to be in order both cross ways and long ways. We set them straight. It takes a little time. I had a guy who called me a few weeks and said he might have to call me and ask me a few things (about graduation). I told him I would glad to help him any kind of way. I've done it for so many years. I know everything about it."
All three say they plan to do some traveling now that they are retired. The Mabrys have a trip to St. Lucia, and they plan to go to see relatives in California and Wade said he is planning to go to Disney World this summer.
"I've been there once before and have wanted to go back again," said Wade.