Brannan, Taylor win Kick For Tuition Event at Grenada High School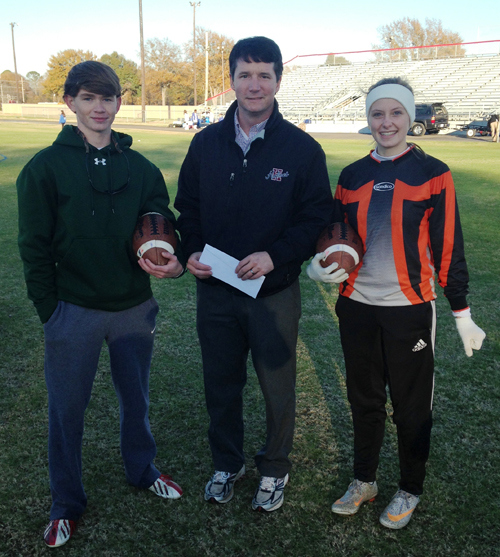 Grenada Center Vice President Jim Haffey congratulates Drew Brannan and Sydney Taylor for winning the Kick for Tuition event at Grenada High School.
Grenada High School seniors Drew Brannan and Sydney Taylor will receive a free semester's tuition as part of a partnership between Holmes Community College's Grenada Center and Grenada High School in the GHS Kick-for-Tuition contest.
During Grenada High School home football games, Grenada High seniors kicked field goals between the first and second quarter of the game. Students signed up during the week of each home football game, and the competitors were chosen each Thursday before the home games. The senior girls kicked attempted field goals from the goal line while the senior boys kicked from the 10-yard line. The winner from each home game then competed for an overall winner on Dec. 10, where Brannon and Taylor won each division.
"It's a fun way to expose the college to a home and away crowd when they play up in here in the northern part of the district," Grenada Center Vice President Dr. Jim Haffey said. "The reason we focused on Grenada High School is that we get such a large number of students from there, and we want to cater to them. Universities have been doing this for a while for the in-house students. We thought it would be a cool way to promote the school in the high schools as we reach out to them."
"It was a lot of fun this first year," Haffey said. "We get out and get to know the high school and interact with the community on a Friday night. It's a way to let them know that we are not just a stuffy place to take a few classes and leave. We want them to feel like that the school spirit they have in high school continues once they come to college."
Future summer school, dual enrollment or full-time students were eligible to compete.
Participating in the final kick were: Jesse Meadows, Deane Tilley, Emily Brown, Sarah Kate Griffin, Sydney Taylor, Raven Clark, Josh Greer, Drew Brannan, Chance Davis, Dillan Hill and Shelby Craddock.
Haffey says this event will continue next football season as well.