Mississippi Humanities Council names B

rown Teacher of the Year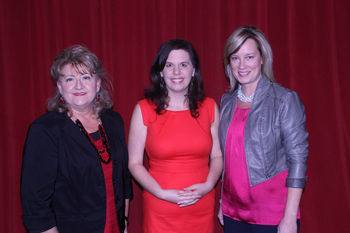 Jessica Brown, center, presented the "Literary Runaway" on Tuesday in McDaniel Auditorium. Pictured with her are Dr. Fran Cox and Tonya Lawrence. Brown was recently named the 2013 Humanities Teacher of the Year for Holmes Community College. She will be recognized during the Spring Semester by the Mississippi Humanities Council.
Vicksburg native and Holmes Community College English Instructor Jessica Wahl Brown has been named the 2013 Humanities Teacher of the Year for Holmes Community College.
As part of her award, Brown presented "The Literary Runway" on Tuesday afternoon in McDaniel Auditorium on the Goodman Campus of Holmes Community College. The presentation explored how fashion is used in literature and film. She took two books William Faulkner's Sanctuary and Margaret Atwood's The Edible Woman along with the movie The Devil Wears Prada based on the book by Lauren Weisberger and explained how the main characters used their own styles to serve their own purposes, which was to cover up insecurities and to compete with others.
Brown discussed Temple Drake and Ruby Lamar from Sanctuary, Marian McAlpin and Ainsley Tewce from The Edible Woman, and Andy Sacks and Emily Charleton from the The Devil Wears Prada. While these women's stories take place in different regions and time periods, they all feel dissatisfied with their own lives and use their clothing to express that dissatisfaction.
Brown grew up loving all things involving literature and fashion, thanks in large part to her mother, an avid reader and shoe enthusiast. She attended University of Mississippi where she received a Bachelor of Arts in English and History. While there, she enjoyed studies of Mississippi, from its literature to its history to its music.
Two weeks after graduating, Jessica married her college sweetheart, Jeffrey Brown, and the two found themselves in Goodman, where Jeffrey took a job as assistant band director at Holmes Community College. Not even a month after moving to Goodman, Jessica received an offer to teach English at Central Holmes Christian School where she found her calling as a teacher.
Within a year, Jessica enrolled in graduate school at Mississippi State University where she received her Master of Arts degree in English. It was there she discovered an enthusiasm for contemporary literature, particularly the works of Margaret Atwood.
Jessica began teaching in the English Department at Holmes Community College in 2006 and is currently in her eighth year there. During her time at Holmes, she has taught developmental English courses, English Composition I and II, and British Literature.
When Jessica is not teaching or when J. Crew is not offering a sample sale, she enjoys hanging out at her home in Canton with Jeffrey; their two-year-old son, Vincent Jude; and their first "child", Weezy-cat.
Brown will attend the statewide award reception during the Spring to be recognized by the Mississippi Humanities Council.