Holmes announces Vint Center for Nursing at the Grenada Center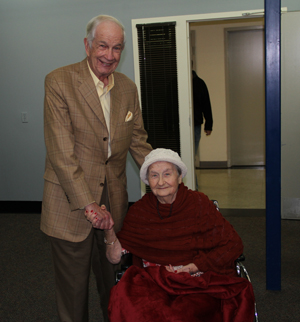 Development Foundation, Inc. President Dr. Don Phillips thanks Mary Vint for her donation to Holmes Community College.
Holmes Community College announced recently a $1 million donation, which will establish the Lottie Ruth Vint, RN, and William A. Vint, M.D., Scholarship in their memory.
This scholarship was established by Mary Vint and is designated for residents of Grenada County, who are enrolled in the Associate Degree Nursing Program and attending the Grenada Center location of the school.
"I have said for many years that I was going to establish this scholarship and decided that, if I was going to see the nurses benefit from it, I would go ahead and establish it at this point in my life," Mary Vint said.
"We are humbled that the Vint family thought so highly of our Nursing program at Holmes and the Grenada county residents to make this commitment," said Dr. Jim Haffey, Grenada Center Vice President. "This will change the lives of the students who are balancing a career, family, and school."
The Vint Scholarship will provide additional support to students through simulation-based lab training, explained Nursing Simulation and Skills Lab Coordinator Gwendolyn Sprayberry Lordeon.
"The new lab will provide a safe environment to practice clinical procedures and make critical decisions quickly in an effort to garner nursing student's success and provide World Class nursing care for our community," Lordeon said.
Recipients must be nontraditional students, have a financial need, and preference is given to students demonstrating an intention to practice nursing within the State of Mississippi for at least two years immediately following graduation. For the fall 2013 semester, 25 scholarships were awarded.
"The scholarship has helped ease the stress of worrying about how they would afford books and other critical supplies they need to make it financially for two years," said Associate Degree Nursing Director Dr. Lawanda Herron. "The feedback from our inaugural group of recipients has been amazing."