Nissan donates two vehicles to Holmes' Career-Technical Programs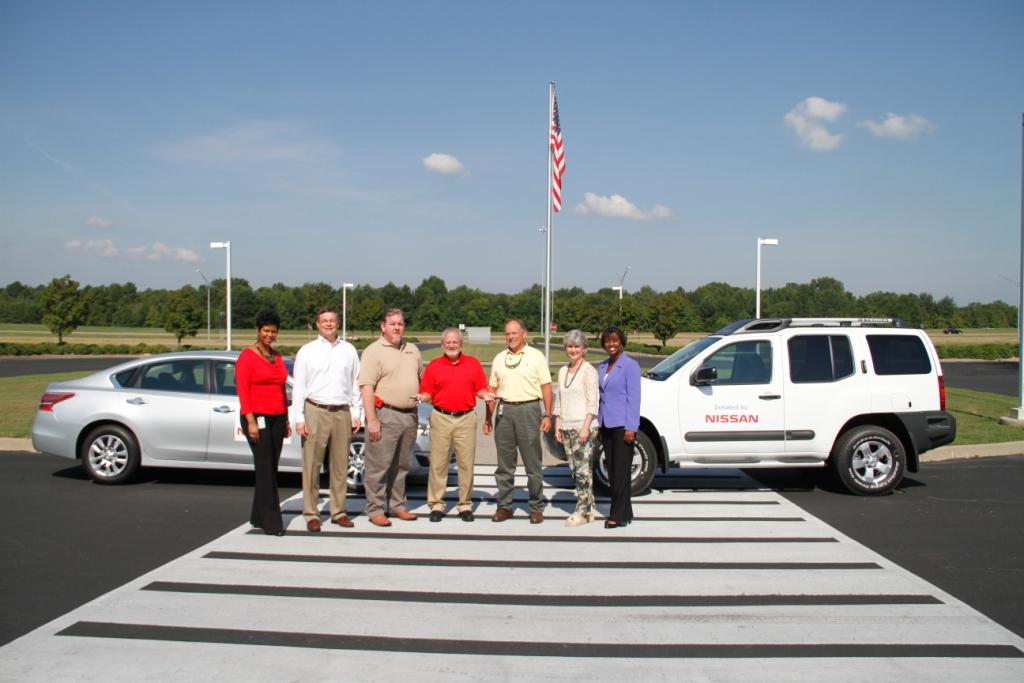 Nissan recently donated a 2013 Altima and a 2013 Xterra to Holmes Community College. Pictured are Leah Roberts, Senior Engineer -- Facilities, Utilities and Environmental Engineering; Dr. Don Burnham, Ridgeland Campus Vice President, Holmes; Mike Blankenship, Director of Workforce Development, Holmes; Bob Mullins, Senior Manager -- Training, Organizational Development and Communications, Nissan; Dwight Myrick, Director of Career-Technical Education, Holmes; Angela Crain, Workforce Development Coordinator, Holmes; and Camille Young, Manager -- Communications and Community Relations, Nissan.
Nissan North America's Canton Plant recently made a generous gift to the Collision Repair and Automotive Technology programs at Holmes Community College's Goodman Campus by donating a white $29,440 2013 Nissan Xterra and a silver $20,300 Altima to be used by instructors and students in those programs.
"Nissan is committed to the educational advancement of our community and state," Nissan Manager of Communications and Community Relations Camille Young said. "Our hope is that this donation will increase the automotive manufacturing and maintenance knowledge for Holmes' students.
"For 10 years, Nissan has been a good corporate citizen in Central Mississippi and the entire state," she said. "We have long-standing partnerships with educational institutions so that their students of today can become the educated and prepared Nissan employees of tomorrow. Nissan is proud to partner with Holmes Community College for the advancement of students and faculty. Nissan is committed to the educational advancements of students across the state and takes great pride in promoting these beneficial relationships."
Both vehicles have no title and will only be used in the shops of the programs. Students will use them to learn about the vehicles and will make them more employable at a Nissan plant or local dealership in the future. Holmes agrees to use them in the program and no parts will be transferred to a third party and will not be driven on city streets, roads or highways and will be destroyed properly when they are no longer of any use to the college.

"Holmes Community College is very appreciative to accept two vehicles from Nissan North America, Canton Plant," Goodman Campus Career-Technical Director Dwight Myrick said. "The partnership and working relationship with Nissan has been an ongoing and successful endeavor."