GED testing fees set to increase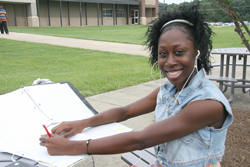 In January 2014, a new electronic version of the GED test will be released, with fees for Mississippians set to double.
Today, there are more than half-a-million Mississippians who lack a high school diploma or GED, which means that they lack the basic skills necessary to compete in today's workforce.
In January of 2014, a new electronic version of the GED will be released. As a result, testing fees for Mississippians are set to double.
The new version of the test will only be available at designated testing sites and is expected to be much more difficult than previous versions, explained Nancy McRight, Director of Adult Education/GED Testing at Holmes Community College.
"Unfortunately, time is running out for many Mississippi residents," she said. "If you or someone you know needs to take this test, the time is now."
Holmes Community College administers the GED exam monthly at the Attala Educational Center in Kosciusko and at the McGowan Workforce Training Center on the Ridgeland campus. To qualify, candidates must be 18 years of age and not currently enrolled in school. Those interested in taking the GED are encouraged to attend local classes available through Holmes Community College, prior to taking the test.
For more information about enrolling in the GED Program at Holmes Community College, call 662.290.0808