Dormitory space still available at the Goodman Campus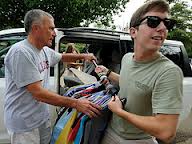 There are limited dormitory spaces still available for both men and women on the Goodman Campus.
Commuting students are welcome to apply if they had not already done so online by completing a freshman housing application. Applicants must have a minimum of 15 hours to be considered for residency.
Please visit Terry Fancher, the Director of Student Housing, for more information. Students are required to bring their student schedule and commuter ID to the office. The Housing Office is currently located in Grenada Hall.