Attala staff trains for 2014 GED testing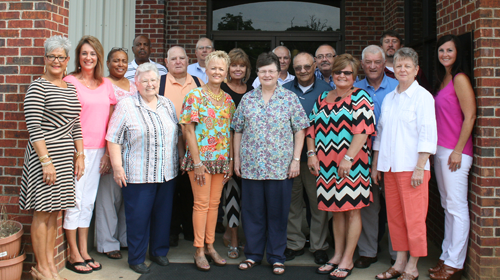 Pictured Left to right are: Front row, Nancy McRight, Angela Ray, Monica Eilers, Teresa Trussell, Leslie Noonan, Angie Burrell, Gayle Chandler, Brook Hood. Second Row: Delouise Randle, Robert Tackett, Cindy Heilbronner, Harry Eskew, Harvey Ray. Back Row: Lee White, David Parker, Tommy Trussell, Tommy Hutchinson, Trent Holly.
Holmes Community College Adult Basic Education staff recently attended a workshop at the Attala Educational Center in Kosciusko. Teresa Trussell facilitated the staff development to prepare the instructors for the new computer based format of the 2014 GED Exam. District wide the ABE Staff served 682 GED students and met 100 percent of the Federal Performance Measures.
For more information regarding the GED Program and testing, please call the Attala Educational Center at 662.290.0808.