Dorm move-in day set for August 18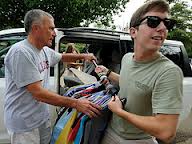 Dormitory move-in day for the Fall 2013 semester will take place on August 18, 2013 from 3-6 p.m. Please arrive during this designated time period in order to receive your key and student ID for room assignment.
All residents must have enrolled in a minimum of 15 semester hours in order to move in. Any assigned students who do not have the number of hours required will not be allowed to move in this day.
Any student who has reserved a room but decides to cancel without notifying the Student Housing Office by August 19will be charged the $50 application fee. All assigned students are expected to be moved in to their respective dormitories on August 18. Those who fail to do so will forfeit their room assignments and the rooms will be assigned to students on the waiting list.
For dorm and room assignments, please contact the Director of Student Housing Terry Fancher at tfancher@holmescc.edu.