Graduation numbers show continued gain for Holmes CC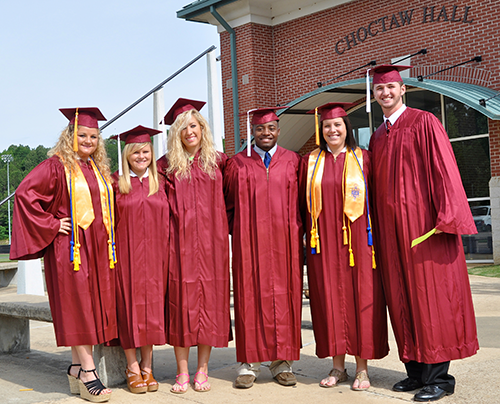 Grad numbers on the rise at Holmes CC.
Preliminary graduation numbers for the Holmes Community College Class of 2013 showed significant gains over last year with an increase of 14.11 percent, leading the state's community college system in percentage gain for the second year in a row. This is the third year that Holmes has seen double-digit gains over the previous year. Last year, Holmes led the state with an astonishing 35.41 percent increase. In 2011, the school saw a gain of 28.5 percent.
"Anyone can have a good year; but, at Holmes Community College, we strive to perform at a high level on a consistent basis," said Holmes Community College President Dr. Glenn F. Boyce. "What these numbers show is that Holmes has a successful formula that works again and again."
Boyce attributes the school's success to several factors, the first of which is a highly-motivated student population matched with an incredibly dedicated and talented faculty.
"Many of our students come to us lacking basic college readiness," Boyce explained. "I firmly believe our success in graduating students is evidence that we make up more ground than most, and we do so without sacrificing quality. In many ways, it is our job to bring out the best in our students. This type of tangible success is proof that we do that."
Additionally, Boyce said that graduation numbers have continued to be a district-wide priority among instructors, counselors, support staff, administrators and student mentors, over the past several years.
"It is our job as educators to help our students recognize the importance of the decisions they make now, in terms of how those decisions will impact the rest of their lives," Boyce said. "The data clearly shows them that credential attainment means more marketability and increased wages throughout their working lives."