Tedford receives one of Ole Miss' top scholarships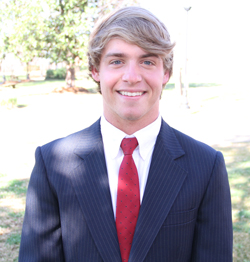 Holmes Community College graduate Grey Tedford of Bruce was heavily involved in student activities while at Holmes, however, he had no clue that it would pay off like it has.
Tedford, who last week completed a 3,100-mile bike ride across the U.S. to raise money for the Amputee Coalition of America, was informed by the University of Mississippi on Thursday that he was one of 10 community college students from the state who will be awarded the University of Mississippi's highest scholarship for transfer students, the Lyceum Scholarship. Fellow Holmes CC student Jacob Hale also received a Lyceum Scholarship.
The Lyceum Scholarship, which is worth $6,600 for two years, is for transfer students with at least a 3.0 GPA and 48 transferable community college credit hours and an exemplary record of leadership and service. Tedford interviewed for this scholarship along with 270 other community college students.
"I was just on my Ole Miss account looking up my financial aid," Tedford said when he got the call from Ole Miss. "The whole entire summer, that was the last thing on my mind, to be honest. I was concentrating on the ride."
"Jason called me shortly after and told me he had some good news," Tedford added. "I just burst out with excitement. That basically meant I'm not going to have to pay for school at all. That was pretty exciting for me."

Tedford came to Holmes on a tennis scholarship but wasted little time getting involved in extracurriculars. He first found the Student Support Services' MOSAIC group, which led him to the Baptist Student Union, Student Government Association and the Holmes Ambassadors — Holmes' student recruiting team.
"Coming into Holmes I saw the opportunity that I wanted to change and see what it felt like to be involved," Tedford said. "They branched me out into all of the other things I did at Holmes.
"If you don't get involved with things you are not going to prosper better than someone who does," he added. "Once you join the club, do the best you can. I put myself out there and did everything possible and realized good things will come from it. You'll get in with people you need to get good with and have connections with those people. It really paid off."
At Holmes, Tedford realized keeping his grades up and being involved at the same time was very important, but he feels like the community service aspect paid off for him tremendously.
"Nowadays, scholarships are based on community service," Tedford said. "Community service is part of being involved. You just need to go out there and get involved in the community. It builds your self-esteem. You gain respect and in the long run it pays for school if you do it the right way.
"It lets you know you are capable of doing things you stuff it was impossible before," he said. "It just gives you encouragement."
"One thing obviously is that Grey's resume is unbelievable," said Ole Miss recruiter Jason McCormick. "All of the stuff he's done whether it's his walks or bike ride, you don't see that on many student's applications especially the fact that he did it on his own and not through an organization.
"Not only that he's still involved in Holmes' Ambassadors group and other organizations, he kept his grades up," McCormick said. "He's a well-rounded student."
McCormick said since Tedford was so involved at Holmes and on his bicycle rides for charity, he was easy to keep up with and became a target for Ole Miss to recruit him as a student. "That's what I told my boss," he said. "If I could get 25 Grey Tedford's a year I could quit tomorrow. That's what we are looking for.
"We like for our students to get out in the community and serve others," he added. "It's hard to describe all the type of things he's done."
McCormick said he was sad Tedford's trip across America was over. "We had a lot of fun with it, too," he said on checking Tedford's progress across the southern tier of the U.S. "He's exactly what we want in an Ole Miss student, one who can go out in the real world and succeed. He's a leader and that's what we are looking for."
It didn't hurt that Tedford toured the LSU campus touting the Ole Miss colors. "We all got a kick of that especially our orientation director," he said. "She loved it. He had the Ole Miss Orientation shirt on. I think Baton Rouge treated him well even though he on his Ole Miss gear. That was pretty funny. We all enjoyed that."
To go along with the Lyceum Scholarship, Tedford will also receive the Community College Academic Excellence Scholarship and a scholarship given for the Chancellor's Leadership Class in which 25 are given to community college students.
The Community College Academic Excellence Scholarship is awarded to Community College students with a 3.0 overall transfer GPA and 48 transferable community college credit hours. Students must be enrolled full-time to receive this award.
All three scholarships combined means an additional $9,100 in scholarship money for Tedford.