Dr. Boyce announces departure from Holmes CC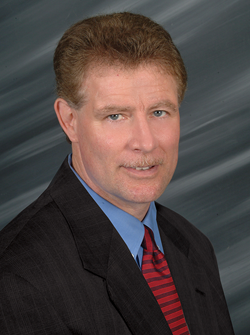 Holmes Community College President Dr. Glenn F. Boyce informed the Holmes Community College Board of Trustees today he would be stepping down June 30 to become the Associate Commissioner for Academic Affairs with the Institution of Higher Learning.
"I'm honored to be given that opportunity," Boyce said. "It would have taken an opportunity of this stature to move me away from Holmes. This is a special place with outstanding people that truly care about students first."
Under his leadership, Holmes has reached the highest enrollment in school history and been recognized nationally as one of the nation's highest achieving community colleges by the Aspen Institute.
Since Boyce became president in 2005, Holmes has achieved a record number of graduates and was one of the leading institutions in the community college system in the percentage of increased graduates for several years. The college has significantly expanded teaching locations and opened numerous new academic and career/technical programs in its service area.
Boyce is also proud of the three World Championships won by Holmes' Phi Theta Kappa Chapters. He was also instrumental in starting the President's Leadership Institute and its expansion to other campuses. The Holmes Community College Development Foundation, Inc. is currently in the middle of a Capital Campaign that has raised $9.4 million of its $11 million goal, which represents the largest private fundraising effort in the history of the college.
He points to the numerous building projects and significant remodeling done at all locations as a source of pride. "Everything we've done here was with a quality effort." Boyce said. "Every place you went, every event and activity was done with a sense of pride and quality. I'm very appreciative of our people for that."
Boyce said Holmes is blessed and fortunate to have tremendous faculty members. "We implemented a unique faculty growth model," he said. "Our attitude was that we knew our role was not to have the largest facilities or the most grandeur buildings, but it was to provide curriculum, instruction and assessment at the highest of levels. We challenged ourselves to be a world class teaching college. In many areas of our college we achieved that goal."
He has served as co-chair of the Education Achievement Council, which was charged by the Mississippi Legislature to establish education achievement goals for the state, monitor and report on the state's progress toward these goals and prepare an annual report card compiled from the annual reports submitted by each state institution of higher learning and community and junior college in the state. Members of the Council include representatives of the Mississippi Legislature, the Governor's Office, the State Institutions of Higher Learning, Mississippi's Community and Junior Colleges, the Mississippi State Board of Education, the Mississippi Department of Mental Health and the Mississippi Economic Council.
Dr. Boyce serves as a trustee for the Southern Association of Colleges and Schools Commission on Colleges. He serves in a number of roles with the Mississippi Association of Community and Junior Colleges, including Chair of the Performance and Accountability Committee, member of the Athletic Committee, former chair and current member of the Phi Theta Kappa Committee, and member of the Legislative Committee.
"I enjoyed my time serving on statewide committees and representing the MACJC," Boyce said. "Chairing the Performance and Accountability Committee was a challenge, but nonetheless, it was a real opportunity to work across all education sectors. The Education Achievement Council is really making a difference."
As far as being a SACS board member, "It offered keen insight into other community colleges and universities across the Southeast," Boyce said. "It was a great opportunity to learn from other institutions and to contribute to our regional accreditation standards."
Prior to being named president of Holmes, Dr. Boyce served as vice president for community and workforce development and as the district director of career-technical education. Prior to joining Holmes, he served as assistant superintendent for secondary programs for the Rankin County School District and high school and attendance center principal of the Northwest Rankin Attendance Center. He has also served as headmaster at a number of private schools in Central Mississippi.