Goodman Campus CTE holds "Blue Collar" event for area high school female students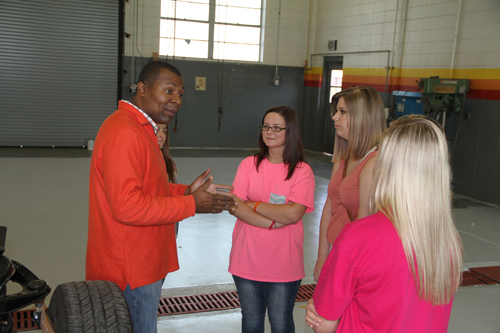 The Career/Technical Department of Holmes Community College in Goodman recently hosted a non-traditional event for high school females to visit and explore traditionally male-populated programs. The event's title, "Blue Collar: No Longer a Fashion Faux Pas," signified the need to dispel the stereotype that "blue collar" workers cannot earn the income to afford a high quality of life. The goal of the event was to show females that there are wonderful opportunities leading to high-paying incomes for those who are willing to break a stereotype to enter a career that is typically populated by males.
The female students from Holmes County and Choctaw County schools were treated to a fashion show in which current Holmes CC students "strutted the runway" in blue collaruniforms that were then transformed into high-fashion as a result of blue collar earnings.
The students also visited the Collision Repair Technology, Automotive Technology, Welding Technology and Heating and Air Conditioning Technology programs where they spoke to the instructors, used simulators and even performed a soft soldering weld. After lunch, participants were given tool kits and Holmes CC insignia produced by the career/technical programs to commemorate the event.
This event, provided through a competitive grant funded by the Mississippi Community College Board and coordinated by Laura Bigbee, Holmes CTE Support Services Coordinator, increased students' knowledge of career/technical programs and emphasized that non-traditional careers can be extremely rewarding.