Communications office brings home awards from CPRAM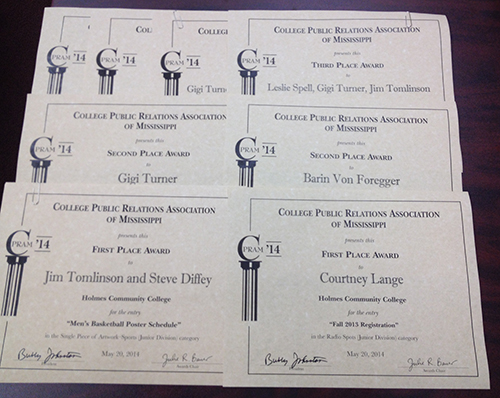 The Communications Office at Holmes Community College brought home two first place, two second place and four third place awards in this year's College Public Relations Association of Mississippi's annual competition yesterday in Tupelo.
Graphic designer Jim Tomlinson and Director of Communications/Sports Information Director Steve Diffey got first place for the 2013-14 Men's Basketball poster schedule while former Public Relations Specialist Courtney Lange got first place for the 2013 Fall Registration radio spot.
Multi-media specialist Barin von Foregger got second place for his web graphic "Bulldog Nation" and former graphic designer Gigi Turner got second place for the "Fine Arts at a Glance" brochure.
Tomlinson, Turner and Recruiting Specialist Leslie Spell got third place for the "Holmes at a Glance" brochure. Turner, Lange and Holmes Community College Development Foundation Director Dr. Lindy McCain got third place for the "Expanding the Vision" Foundation annual report. Tomlinson got third place for this "Bulldog Dash" poster done for the Phi Theta Kappa 5K run on the Goodman Campus, and he also got third place for his web graphic/billboard for "Be Awesome at Holmes."