Bishop and Edwards receive Ole Miss' highest transfer scholarship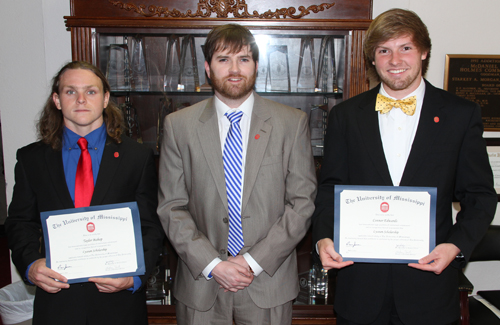 Taylor Bishop, left, and Connor Edwards, right, are pictured with Ole Miss Regional Admissions Counselor Jason McCormick after they received the Lyceum Scholarship from Ole Miss. They received two of the 15 total awareded by Ole Miss.
Out of 270 applications for the University of Mississippi's most prestigious transfer scholarship, the Lyceum Scholarship, Goodman Campus sophomores Taylor Bishop of Sallis and Connor Edwards of Pickens will receive two of the 15 awarded by the university.
Both Bishop and Edwards will receive full resident tuition for two years for this scholarship which totals $6,660 per year. The Lyceum Scholarship is for transfer students with at least a 3.0 GPA and 48 transferable community college credit hours and an exemplary record of leadership and service.
"This is going to help me with my school," Bishop said. "I'm going to get out of school with an engineering degree without having a single student loan so it's a big help financially and a burden I don't have to worry about. I may even not have to work and will be able to focus on my studies and hopefully keep my 4.0 GPA."
Bishop, a pre-engineering major, said being involved in extracurricular activities such as Phi Theta Kappa, Holmes Ambassadors, Baptist Student Union, Holmes Plus and Dr. Glenn F. Boyce's Leadership Institute played a huge part of him being noticed by Ole Miss.
"I think being involved in Phi Theta Kappa (chapter officer team member) like I was would be the key component to me receiving this award," Bishop said "That's how I met Jason (McCormick) and got to know him. I also had the opportunity to meet the chancellor and different people at Ole Miss."
He also credited Dr. Boyce for the direction given in the leadership class. "We got to go on trips, and Dr. Boyce taught this class and gave us his keys to world class leadership. Being in all these groups on campus opened doors and introduced me to people like Jason and Chancellor Jones at Ole Miss. I know the vice presidents at the other campuses of Holmes. I've talked to them and have conversations with them every time I see them. It's important to get plugged in to some kind of group whether it's SGA, PTK, MOSAIC or whatever it is. It allows you to meet people that can help you out and direct you to what you need to do."
Bishop said he is glad he chose to be a part of Holmes Plus for the last two years. Holmes Plus is a program who seeks students with high ACT scores who want to major in math or science fields. "It keys them in on the classes they need to take," Bishop said. "They do a great job in making sure you are in the right classes. They check on you and ask how your grades are. If are struggling with something, they are willing to help you.
"I think Holmes does great in general with people who are trying to transfer to other universities in an engineering field or other fields," he said. "I'm going to transfer to Ole Miss in a two plus two situation and will graduate from Ole Miss in two years with a bachelor's degree just like if I had gone to Ole Miss as a freshman. Holmes works great with all the universities to make that possible."
Bishop is the son of Cliff and Melanie Bishop of Sallis.
"It's the greatest honor I could think of getting graduating from the community college and transferring to a university," Edwards said of receiving the Lyceum Scholarship. "Just being able to have my school paid for is a big help. It's a big encouragement to see that my studying and hard work has paid off at the community college level and to strive forward in my academics at the university as well.'
Edwards said being involved in activities at Holmes and maintaining his 3.94 GPA was definitely a key to receiving the scholarship. "When I talk to prospective college students, I tell them that Holmes Community College is great, but you are only going to get out of it what you put into it. You've got to get involved and step out of your comfort zone. I tell them to get involved in as many organizations that they can but don't overload themselves. Being in these groups encourages you and helps you develop the leadership skills that you need to succeed."
Edwards, a biological science major, serves as president of the Phi Theta Kappa's Kappa Alpha Chapter on the Goodman Campus, BSU Leadership Team, is member of Dr. Boyce's Leadership Institute, Holmes Plus and is a Holmes Ambassador.
Of Holmes Plus, Edwards said, "If you have the ACT scores, I'd definitely encourage everyone to get involved in it. It helps tone those skills before you head to the university. It's been a big help. The advisors are great. They reach out and help you with anything you need. That's the biggest benefit of Holmes Plus. All of the advisors are in your science and math areas. They'll still go out of their way to help you with whatever you need."
Edwards said Regional Admissions Counselor Jason McCormick played a big role in him choosing Ole Miss. "Jason McCormick definitely stood out for me," Edwards said. "He went out of his way and reached out to transfer students and showed that he cared about them and showed that he wanted them at the college and saw something in us. I didn't see that in any of the other transfer admissions counselors."
Edwards is the son of Billy and Lynn Edwards of Pickens.
McCormick knew from the first time he met Bishop and Edwards they would be leaders at Holmes and would be great students at Ole Miss.
"I met them in the summer and when they came to Apex you could tell they were leaders and were going to do big things at Holmes," McCormick said. "We are excited to have them on campus. Hopefully, they'll continue to do what they did at Holmes when they get to Ole Miss.

"When you looked at the resumes they came right to the top," he added. "I worked with them throughout the year, and they have been probably my favorite to work with. They are unbelievable kids not only in the classroom but outside the classroom. They are great role models for their peers, and I hope they do the exact same thing once they get to Ole Miss."
McCormick agreed that Bishop took a little more work to bring to Ole Miss than Edwards did. "That's the thing, Taylor has always been one of the most polite kids I've ever met," McCormick said. "One of things I like to do is I don't want to recruit anybody. I want to show them the opportunity they have.
"I showed him the engineering school and what doors it would open in the future for him," he said. "Taylor made up his own mind. He came to campus and did the visit and told me that this is where he wants to be."
Edwards agreed, "Once he (Bishop) visited Oxford and visited the campus, he saw he could fit in anywhere he goes."

"It (Ole Miss) was not my first choice," Bishop explained. "It's further away. It's also the fact that not hardly any of my friends go there. Ole Miss just seemed to be a lot friendlier. They bent over backwards to get me to come to Ole Miss."
To go along with the Lyceum Scholarship, both Bishop and Edwards will also receive the Phi Theta Kappa Scholarship, the Community College Academic Excellence Scholarship, and a scholarship given for the Chancellor's Leadership Class in which 25 are given to community college students.
The Phi Theta Kappa Scholarship is awarded to transfer students with a 3.5 GPA on at least 48 transferable community college credit hours and membership in Phi Theta Kappa. The Community College Academic Excellence Scholarship is awarded to Community College students with a 3.0 overall transfer GPA and 48 transferable community college credit hours. Students must be enrolled full-time to receive this award.
The four scholarships combined will mean $14,000 a year in scholarship money for both Bishop and Edwards.