Holmes CC Sports Hall of Fame set for April 24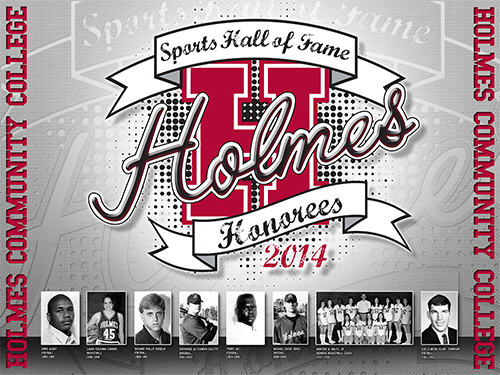 The 2014 Sports Hall of Fame Banquet will be held on Thursday, April 24 at 6:30 p.m. in Frank Branch Coliseum on the Goodman Campus.
The 2014 inductees are: Chris Avery, football; Laura Coleman Canard, women's basketball; Richard Chisolm, football; Sherwood Colette, baseball; Terry Day, football; Michael Jones, baseball; W.A. Miles, women's basketball coach; and Clint Tompkins, football.
For more information or for tickets, contact Alumni Association Secretary Hilliary O'Briant at hobriant@holmescc.edu or call (662) 472-9004. The deadline to purchase tickets is April 17.
Chris Avery
Chris Avery enrolled at Holmes Community College after graduating from Grenada High School in 1995. He was a member of the Holmes Bulldog Football team both his freshman and sophomore years. In 1996, after winning the North Division, the team went on to play in the Community College State Championship game and Avery was named JUCO All-American that year. After Holmes, Avery went to Kentucky State University where he also played football. While at Kentucky he was named Division II All American and All SIAC.
Avery continued his football career with the Grand Rapids Rampage professional team from 2000 – 2007. In 2008 he played for the Kansas City Brigade. Remaining an athlete he also participates in Ironman competitions. He is a two time All-Ironman Team member and also won Ironman of the Year twice. Avery is the owner/operator of Avery Trucking.
Laura Coleman Canard
After graduating from Manchester Academy in Yazoo County, Canard enrolled in Holmes Community College in the fall of 1996. While playing basketball for the Holmes Lady Bulldogs, she accumulated several honors including Best Rebounder and Best Free Throw Percentage, and was named Honorable Mention All-State. She also achieved academically at Holmes and was inducted into Phi Theta Kappa National Honor Society.
Canard continued her education at Mississippi College receiving both a Bachelors and a Masters of Arts in History and Political Science. As a member of the MC ladies basketball team, she was named Most Improved in 1998-99. Her senior year she was Co-Best Defensive Player of the East Conference, Second Team East Conference, and Academic All Conference and received the Senior Letterman Award.
In 2003, Canard came back to Holmes, this time as an instructor of History and Political Science on the Ridgeland Campus and currently teaches on the Goodman campus, as well as on line courses. She also serves as an advisor of Phi Theta Kappa Honor Society
Richard Phillip Chisolm
A native of Lexington and a graduate of Central Holmes Academy, Chisolm came to Holmes in the fall of 1989 and played football both his freshman and sophomore years. His sophomore year he was named as the First Team All-State Punter and First Team Junior College All-American. Chisolm not only had success on the football field but academically as well. He was inducted into Phi Theta Kappa Honor Society and was selected as first Team Junior College Academic All-American.
Upon graduating from Holmes, Chisolm signed a football scholarship with the University of Mississippi. He received his Bachelors of Science Degree in Civil Engineering from Ole Miss in 1994. Soon after graduation he began his working career with the Mississippi Department of Transportation. He remains there today serving as the State Construction Engineer.
Sherwood Alexander Colette
A graduate of St. Andrew's Episcopal School and a native of Madison, Mississippi, Colette played baseball at Holmes Community College in 2001 and 2002. During his freshman year, Colette was a part of the nationally ranked team and ended his season batting a solid 300. Colette was also named to the 1st team All MACJC team, 1st team All NJCAA team, and to the MACJC Baseball State Championship Tournament team. He not only had success on the baseball diamond but academically as well. He was named to the Academic All-American team his sophomore year.
Colette continued his education at Millsaps College and received a Bachelors of Science Degree in Biology in 2006 and in 2010 received a Juris Doctorate from the MC School of Law. While playing baseball at Millsaps College, Colette was a member of the 2005 Southern Collegiate Athletic Conference Championship Team.
He has served as law clerk to Honorable James E. Graves, Jr. at the Mississippi Supreme Court and the United States Court of Appeals for the fifth Circuit in New Orleans, Louisiana. He currently is an Associate Attorney at John M. Colette and Associates of Jackson, Mississippi.
Terry Day
A native of Holmes County, Day graduated from Williams-Sullivan High School. He enrolled in Holmes Community College in the fall of 1993 and played football both his freshman and sophomore years. He was a standout player and was selected to the All-State team both of his years as a Holmes Bulldog. He was also selected to play on the Mississippi Junior and Community College All Star Team.
Following graduation from Holmes, Day attended Mississippi State University and received his B.S. degree. While at State, he was a member of the track and field team and received ALL SEC honors for his athletic abilities in that arena. From 1997 to 2000, Day played professional football for the New York Jets. After his football career, he returned to Mississippi and for the past eleven years has been an assistant store manager for Walmart in Kosciusko.
Michael David Jones
A native of McCool, Mississippi and a graduate of Weir High School, Jones played baseball at Holmes in 2001 and 2002. As pitcher for the Bulldogs, Jones earned top ranking in wins, complete games, ERA's and other stats for his career at Holmes. He was selected as first team All-State and All Region 23 both his freshman and sophomore years. Honorable Mention All-American, Academic All American, MACJC Baseball State Tournament team member are other accolades Jones received while on the Holmes' diamond.
After leaving Holmes, Jones obtained his Bachelors Degree from The University of New Orleans and a Masters of Arts in teaching from the University of West Alabama. During his senior college years, he was selected as a member of the SunBelt Conference All-Academic Team in 2003, 2004, and 2005. He led his team in innings pitched both his junior and senior years. He was highly respected by team members and was nominated as Team Captain.
In 2005, Jones signed to play professional baseball for the Chicago Cubs. After his career with the Cubs, he continued his love for the game and became an Assistant Baseball Coach at The University of West Alabama where he worked as a pitching coach for four years. Currently, Jones is an Athletic Department Administrator and Academic Coordinator at The University of West Alabama.
Winston A. Miles, Jr.
W. A. Miles came to Holmes after graduation from Weir High School and played baseball both his freshman and sophomore years. Although an outstanding athlete himself, Miles' greatest contribution to Holmes Community College sports is his years as coach of the Lady Bulldogs Basketball Team. The college had been without a girls' basketball team for several years, and in 1972 Miles re-established the team, recruiting players from currently enrolled students and without the availability of scholarships for them. That first year ended with 9 wins and 4 losses and a trip to the junior college tournament where his team took second place honors. Miles remained the girls basketball coach for six years and in 1978 was selected to coach the north division team in the first North-South All Star Game. His North division team won 71-56. For his accomplishments, Miles was named the Mississippi Junior College Athletic Association All Star Coach for 1977-78.
A graduate of Holmes, Miles holds both a Bachelors of Science and a Masters Degree in Industrial Education from Mississippi State University with additional study at The University of Southern Mississippi. He began a teaching career in Vicksburg Public Schools and in 1966 came to Holmes as an instructor of Engineering Technology. His teaching career at Holmes spanned 38 years until his retirement in July, 2004. Miles is a lifetime member of the American Technical Education Association. For his dedication to Holmes Community College he has received the Holmes Distinguished Service Award in 1996, a Holmes Special Service Award in 1998 and was named one of ten Alumnus of the Decade in 2000.
Lige Clinton (Clint) Tompkins
Clint Tompkins is a native of Montgomery County and a graduate of Kilmichael High School. Tompkins played football for the Holmes Bulldogs in the fall of 1961. Following his freshman year he enlisted in the United States Navy and served four years. He then returned to Holmes and again played football in the fall of 1967. An outstanding player that year, Tompkins was selected as a Junior College All Star. He was awarded the Ras M. Branch Award, the highest award given to a player, for leadership, respect by teammates, and as an ambassador for the college.
Tompkins went on to play football at The University of Southern Mississippi as both offensive and defensive tackle. After attaining a Bachelors of Science in Zoology from The University of Southern Mississippi Tompkins began his career at Holmes Junior College, coaching the Bulldogs on the same field that he once played on. In 1972 he and his family moved back to Montgomery County to teach and coach at Vaiden High School. His career there spanned over twenty years.