Leadership Institute tours the State Capitol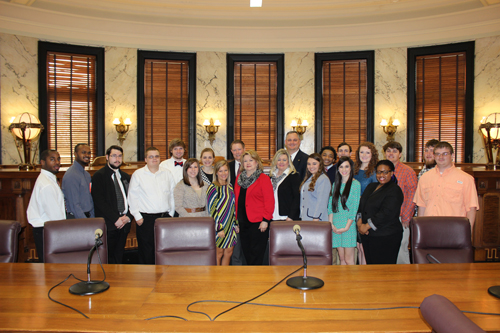 The Leadership Institute of the Goodman Campus of Holmes Community College recently toured the Capitol in Jackson. The class was introduced in both the House and Senate Chambers and addressed by Senator Lydia Chassaniol.
Pictured from left
to right are: Javaris Purnell, Jeremy Brown, Andrew Lobell, Brian Holley, Connor Edwards, Lacey Sanford, Anna Miles, Kaitlyn Howell, Dr. Glenn Boyce, Senator Lydia Chassaniol, Sherrie Cheek, Andy Wood, Lia Pettit, Colby Michael, Daniel Fortenberry, Lily Fran McCrory, Brett Spell, Samantha Stewart, Andrew Gilmore, James Bufkin and Krys Sullivan.