Ridgeland Phi Theta Kappa Chapter to be recognized at annual convention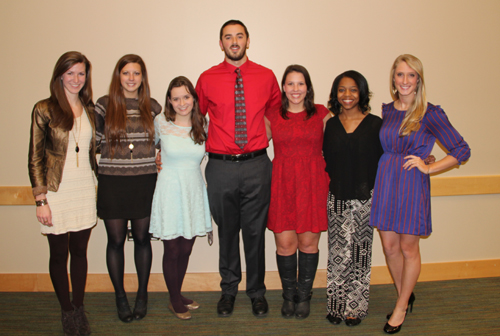 Phi Theta Kappa will recognize the Alpha Lambda Sigma Chapter Officer Team from the Ridgeland Campus along with 29 other teams as 2014 Distinguished Chapter Officer Teams during the annual convention NerdNation 2014 April 24-26 in Orlando, Fla.
Abbey Winstead, Kristen Davis, Elizabeth Evans, Ryan Harris, Katelyn Hardy, Cierra Bracey and Shelby Huff are members of the Alpha Lambda Sigma Chapter Officer Team. They will receive commemorative medallions and be honored during the Hallmark Awards Gala.
Distinguished Chapter Officer Teams must be nominated by their chapter advisors through the Hallmark Awards application process, and are chosen based on the team's demonstration of an exceptional atmosphere of teamwork, leadership abilities, promotion of Honors in Action, other engagement in the Society, and enthusiasm for the Hallmarks of the Society (Scholarship, Leadership, Service and Fellowship). They were selected by a panel of judges from more than 200 nominees internationally.
Phi Theta Kappa Honor Society, headquartered in Jackson, Mississippi, is the largest honor society in higher education with 1,285 chapters on college campuses in all 50 of the United States, plus Canada, Germany, the Republic of Palau, Peru, the Republic of the Marshall Islands, the Federated States of Micronesia, the British Virgin Islands, the United Arab Emirates and U.S. territorial possessions. Nearly 3 million students have been inducted since its founding in 1918, with approximately 131,000 students inducted annually.