Ridgeland Campus offers critical care paramedic program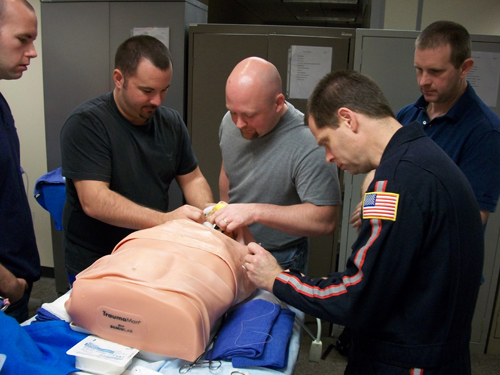 A pilot program on the Ridgeland Campus of Holmes Community College is defining the enhanced level of care that the state's first critical care paramedics will need to do their jobs and save more lives.
The 2013 Mississippi Legislature passed a law allowing for the licensure of critical care paramedics, and the first class began in January in the semester-long program. The hours these paramedics spend in classrooms now will allow critically ill patients to receive more advanced care as they are rushed to the hospital.
"Holmes is laying the groundwork for the state so there will be a good quality course for other colleges in the state to follow," said Mark Galtelli, the college's program director of emergency medical technology. "We are honing a written curriculum to put it into practice in the field."
The inaugural class of 14 is mostly comprised of paramedics who currently fly on medical helicopters across the state. Students have come from Sardis, Eupora, Vicksburg, Meadville and cities close to the Ridgeland campus.
"These paramedics are already actively taking care of sick patients and this course will only enhance their capabilities," Galtelli said. "They will treat the sickest of the sick."
Certain procedures, like the insertion of chest tubes that can now only be done in a hospital, can be started in route by certified critical care paramedics, saving precious minutes for patients, he said.
Stephen Houck of Gluckstadt, a paramedic since 2006, has worked for University of Mississippi Medical Center's Air Care for three years. "This program gives us a wider scope of practice. It allows us to give patients more advanced care and more advanced drugs before they get to the hospital. We will be able to give all pharmacological drugs that nurses give but outside of the hospital."
The enhanced level of care and procedures that certified critical care paramedics can provide to patients in transport "can make a huge difference in a patient's life," Houck said. "The scope of practice is one of the most advanced in the country."
"It's as advanced as you can get," Galtelli said. "It's highly technical and highly repetitious."
Paramedics must have three years of experience to enter the course. Those who complete the classroom work and 90 hours of clinical work will have to pass national certification to be designated a critical care paramedic.
The semester course not only gives the paramedics book knowledge "but first-hand knowledge as well" as the students share their work experiences, Houck said. "The great thing is we're getting people from all over the state."
Galtelli said there is a demand for training for critical care paramedics in the state "and having trained personnel will transfer into more demand. There will be a demand for this course for a long time to come."
The next session for critical care paramedic training will be held during the fall semester on the Ridgeland campus of Holmes Community College. For more information about the program, contact Galtelli at mgaltelli@holmescc.edu or call (601) 605-3331.