Holmes being considered for coveted $1 million Aspen Institute Prize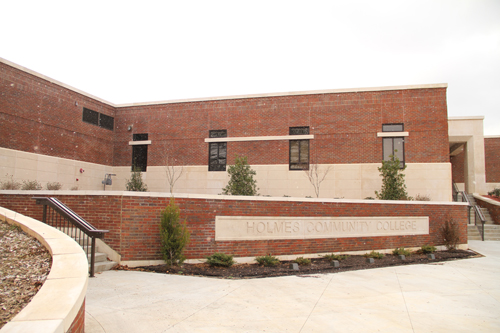 Holmes Community College has been recognized as one of the top two-year colleges in the country and is now competing for a $1 million prize.
The Aspen Institute is seeking to reward the best of the best with its 2015 Aspen Prize for Community College Excellence. The Washington, D.C., based education and policy studies organization recently named Holmes among the top 150 community colleges that deliver exceptional student outcomes.
Those top schools are now eligible to compete for the $1 million prize that is considered the nation's signature recognition of high achievement and performance among America's two-year colleges. The award will be announced in early 2015.
"With over 1,100 community colleges nationwide, this invitation speaks volumes about our institution," said Dr. Glenn Boyce, president of Holmes Community College. "It is a recognition such as this that continues to validate the outstanding reputation of our institution.
"We understand that it does not come about without hard work and real passion for student success.," he said.
The Aspen Institute named the top 150 schools after analyzing information from each of the nation's community colleges on student learning, certificate and degree completion, employment and earnings and high levels of access and success for minority and low-income students.
"This opportunity is only given to 150 community colleges nationwide and is based on student achievement and degree attainment," Boyce said. "The award was created to bring attention and focus to high achieving community colleges."
By focusing on student success and lifting up models that work, the Aspen Prize honors excellence, stimulates innovation and creates benchmarks for measuring progress.
"Students matter a lot," said Josh Wyner, executive director of the Aspen Institute College Excellence Program. "They matter to individual opportunity, to social mobility, and to making sure that Americans are driving our economy forward.
"Community colleges are serving a number of important functions. Two of the most important are that community colleges are training students directly for jobs and preparing them for the next step in their education," Wyner added.
As one of the top 150 schools, Holmes has been invited to submit an application for the $1 million prize detailing information on the success of its degree and certificate programs, the labor market outcomes and student learning. The community college will also demonstrate that it delivers exceptional service to all students and show how it has continued to improve in students' performance and success.
Based on the applications, 10 finalists will be named this fall. A distinguished prize jury will select the grand prize winner and finalists with distinction. The Aspen Prize was first awarded in 2011.