Interior Design program moves to Ridgeland Campus in Fall 2014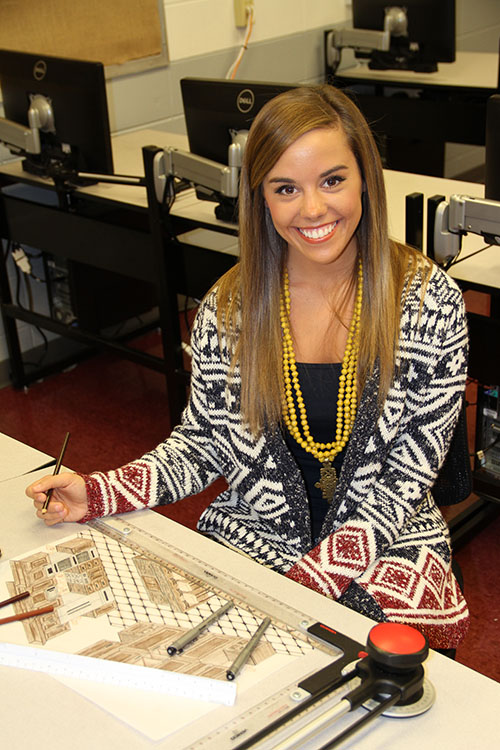 Holmes Community College has designed a curriculum to appeal to students who want a career based in artistry and engineering.
Starting in the fall, the Ridgeland campus will offer a program in interior design, a field that takes students well beyond what colors or styles look good together.
Students accepted into the interior design program can receive a one-year certificate that will take them directly into the work force or take additional coursework to earn a two-year Associate of Arts (AAS) degree. The program's design affords the graduates of the one-year certificate the opportunity to work while completing their AAS online.
"Holmes is the first in the state to offer an interior design degree on the community college level," said instructor Heather Mooney, who designed the curriculum from the ground up, just like the buildings students will work with in the program.
The course work, which is part of the Engineering Technology Department, will include instruction for 17-18 credit hours each semester and give students the needed skills in computer applications, drafting and graphic techniques. Students will follow classroom work with a one-semester internship, giving them on-the-job experience before they enter the working world.
The aim of the program is to give students the skills needed to apply artistic principles and techniques to the professional planning, designing, equipping and furnishing of residential and commercial spaces.
"Students can take their certificates and work for retailers, hotels, design companies, architecture firms and hospitals," Mooney said. "Designers can draw buildings up to 5,000 square feet without an architectural stamp."
Mooney said that the possibilities for work in this field are more wide-ranging than people may realize. To prepare for the many opportunities afforded by the work force, students will design layouts, learn building codes and determine how the elements of a building or space should function.
Interior design does require that students possess a creative bent. However, natural-born drawing talents aren't a prerequisite, Mooney said. "I can teach you to draw on a computer, but you need that spark of creativity. That creativity comes into play as students establish their own sense of interior design style through the program. "
Through the summer internship, students will gain the confidence needed to sell themselves and their sense of style to potential employers.
The Interior Design Program will be capped at 20 students. The program is one that is applicable for students coming to Holmes directly out of high school or for older students looking to switch careers or re-enter the work force.
"With today's strong emphasis on design, remodeling and renovation, we believe that the Interior Design Technology program at Ridgeland will fill a niche for creative students who desire to work in the field of interior design," commented Sherrie Cheek, Vice President of Career/Technical Programs at Holmes. "The support from local businesses and designers has been quite impressive, and we expect such partnerships to both strengthen and expand."
For further information about the program, contact Mooney at hmooney@holmescc.edu.