33 Goodman Campus SkillsUSA students place in state competition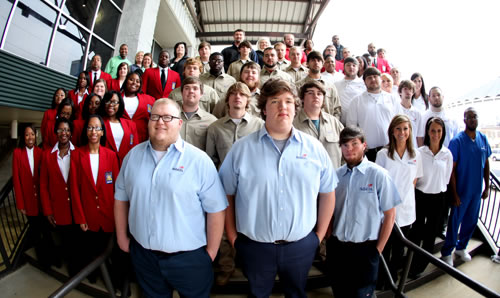 Thirty-three Holmes Community College students from the Goodman Campus placed in the SkillsUSA Mississippi State Championship yesterday at the Kirk Fordice Equine Center and Trade Mart in Jackson. Holmes had six first places, three second places and four third places in the categories offered for competition.
First place finishes included: Quiz Bowl, Austin McCrory, Adam Alexander, Sarah Donnelly, Trey Ferrell and Alex Frank; Medical Terminology, Cierra Wilder; Practical Nursing, Jabari Terrell; Chapter Business Procedure, Arrion Hood, Brian Holley, Marquisha Nelson, Demarion Wingard, Corey McBride and Marc Anthony Smith; Extemporaneous Speaking, Walter Peeples; and Major Appliance Technology, Michael Ward.
Second place finishes included: Job Interview, Donald Winters, Jr.; Opening and Closing, Demetria Fletcher, Jennifer Peacock, Sontana Allen, Megan McCrory, Janet Stewart, Shateadria Malone and Shytiara Johnson; Plumbing, Hunter Wafford; and Nail Care, Kelsey Cather and Artesha Simmons.
Third place finishes included: Team Works, Cody McCrory, Matthew Moorehead, Adam Latham and Michael Webster; Sheet Metal, Cole Amason; Collision Repair, Hunter Threadgill; and Cosmetology, Belinda Simmons.
Goodman Campus SkillsUSA advisor Heather Mooney received the Advisor of the Year Award as well.
"I really wasn't expecting to receive this," Mooney said. "We have worked very hard each year to promote our programs and our students. The students have bought in to what we are trying to do, and I appreciate the state for recognizing our hard work."
All first place finishers have the opportunity to go to the SkillsUSA National Competition in Kansas City, Mo. June 23-28.