Goodman Phi Theta Kappa holds first-ever transfer orientation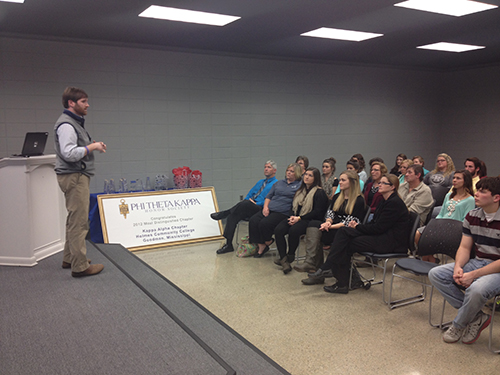 Eight recruiters from eight institutions of higher learning took part in the Phi Theta Kappa Kappa Alpha Chapter's first-ever Induction Transfer Orientation at Holmes Community College in Goodman Tuesday night.
Jason McCormick of the University of Mississippi, Stephen Smith of Millsaps College, Megan Occhipinti of the Mississippi University for Women, Josh Reid of Belhaven University, Shea Gibson of the University of Southern Mississippi, Chris Gaines of Delta State University, Kathrin White of William Carey University and Lynn Russell of Mississippi State University each brought recruiting materials and talked with 60 Kappa Alpha advisors, students and their parents.
The recruiters were able to set up tables in the hallway outside the Phi Theta Kappa room in the Donald E. Phillips Business Building to meet with students and their families.
Last year's Kappa Alpha College Project was to convert the Phi Theta Kappa room into a Multi-Purpose room that could be used district-wide for small group activities. Last night was the first of many scheduled events to be held in the newly renovated Phi Theta Kappa Multi-Purpose Room.
The Kalpha Alpha Induction Transfer Orientation (KAITO) will be an annual event at Holmes' Goodman Campus. Last night's event was sponsored by the University of Mississippi.