Pleas named William Winter Scholar of the Year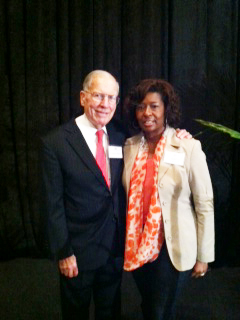 Holmes Community College Ridgeland Campus English Instructor Arnetra Pleas has been named the 2014 Governor William Winter Scholar of the Year for Holmes Community College.
She was chosen as an outstanding faculty in the humanities among Mississippi's colleges and universities in part for her participation in the 2013 African-American Struggles for Freedom and Civil Rights Institute, a National Endowment for the Humanities program,hosted by Harvard University, and a successful presentation "Stemming the Tide Against Humanities Education: An Overview of a Heated Debate and a Necessary Dialogue" at the 2013 TYCAM conference.
Pleas received this prestigious award at the 25th annual Natchez Literary and Cinema Celebration on Saturday. The nationally recognized conference has won several awards including the Governor's Award for Excellence in the Arts, an Olympic Award, and four statewide awards for outstanding humanities programming. The theme of this year's celebration was "60 Years and Counting: Voices of the Civil Rights Movement."
Some of the country's most prominent writers, scholars, filmmakers, and politicians attended including U.S. Senator Thad Cochran who gave a presentation on "The Importance of the Humanities" and additional award recipients James Meredith, Kathryn Stockett, Horton Foote, and Tate Taylor received the Richard Wright Literary Excellence Award. The event culminated with a lecture by Ed King, former Tougaloo College chaplain, a performance by the Tougaloo College Choir, and a tour of Natchez's black churches that served pivotal roles in the Civil Rights Movement.
Jessica Ellis, a Holmes Community College freshman, was also selected as the William Winter Student Scholar. Ellis, a Pre-Nursing major, demonstrates a commitment to academic excellence and is active both in the college and her community.
Pleas selected Jessica because "she is a well-rounded student and articulate writer, who has a genuine interest in social justice." Furthermore, she praised her former Composition II student for her ability to "think outside the box" and write compelling papers about the complexities of society.