Holmes joins all community colleges at Capitol Day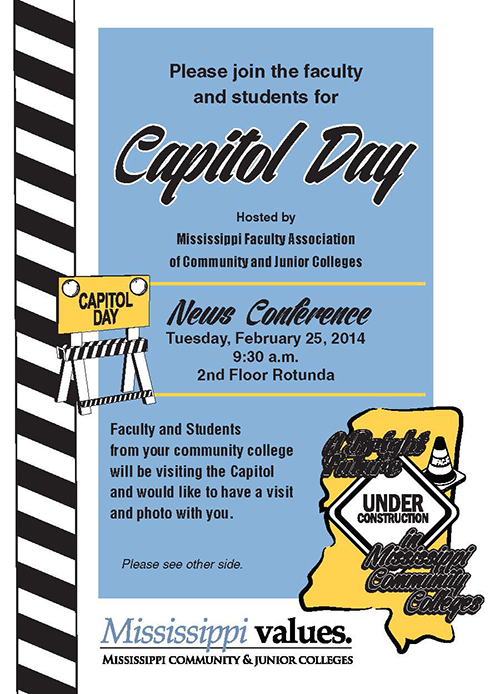 JACKSON – With 64 percent of all freshmen as their students, Mississippi's 15 community colleges play a key role in our state's higher education system that leads to a more educated populace and a trained workforce.
Community college faculty and students from across the state will meet with their area legislators Tuesday, Feb. 25 to share the message that community colleges are a good value for students and families and a solid investment for the state. A news conference will be held at 9:30 a.m. in the second floor rotunda of the Capitol. The event is being sponsored by the Mississippi Faculty Association for Community and Junior Colleges (MFACJC).
In 2007 legislators promised to fund the colleges at the Mid-Level point – per-student funding halfway between K-12 education and the regional public universities – but the community colleges are only getting 52 percent of the promised funds. The colleges are seeking to regain the ground they lost since the legislation was passed. It will take $86.6 million to make it half-way to the Mid-Level target.
"Community colleges are essential to Mississippi's goal of increasing the number of our state's citizens with a college credential," said Dr. William Lewis, president of Pearl River Community College and chair of the Mississippi Association of Community and Junior Colleges.
The community colleges enroll more than 75,000 students, including 54 percent of all undergraduates and nearly half of all students taking a credit course.
"Middle skill jobs, which require more than a high school diploma but less than a bachelor's degree, make up the largest segment of jobs in the current economy. Community colleges are the pivotal link in preparing a competitive workforce in Mississippi," said Dr. Clyde Muse, president of Hinds Community College and legislative chair for the 15-college system.
Mid-Level Funding mandates per-student funding for community colleges that is midway between per-student funding for K-12 students and regional public university students. Using data from FY 2012, the regional public universities were funded at $6,125 per student and public schools were funded at $4,828 per student. Accordingly, community colleges should have been funded at $5,476 per student, but instead received only $3,075 per student.
"Mid-Level Funding is a means to keep tuition affordable, to recruit and retain quality faculty, and prepare more students for work. It is also simple fairness," said Dr. Eric Clark, executive director of the Mississippi Community College Board.
Among the speakers at the Tuesday news conference will be Doug Donohue, president of the Mississippi Faculty Association for Community and Junior Colleges, which hosts the annual Capitol Day event. Donohue is an instructor at Pearl River Community College.
"We are 15 colleges, speaking with one voice for our students," Donahue said. "The quality of our programs, the affordability of a college education and the stability of a highly credentialed faculty workforce depend upon equitable funding for community colleges. Our students deserve the same support the Legislature provides for K-12 and public universities.
The faculty associations join college presidents, students, alumni and trustees in asking legislators to support more funding for community colleges. Since Fiscal Year 2000, community college enrollment has grown 44.7 percent while state support per student has declined by 16.8 percent.
Also participating at the Capitol are the colleges' Student VOICES groups, a student-led advocacy that encourages students to be civically engaged. Topping student concerns is the cost of a college education.
Representing students at the event will be Teylor Martinez, from Louisville, an East Central Community College student. "I enrolled at a community college because it was affordable. I stayed at community college because the faculty and staff took a personal interest in helping me achieve a degree. I'll transfer to the university well-prepared for the next step in my education," Martinez said.
About 80 percent of new jobs being developed in the current economy require college-level learning, and, in Mississippi 54 percent of all undergraduates in public institutions are at a community college.
"We are the platform not only for the future careers of our students, but the future of our state as well," said Dr. Ben Cloyd, director of the Honors Institute at Hinds Community College, who will also speak at the event.
The 15-college system serves nearly 250,000 Mississippians each year in university transfer, career/technical, workforce and adult education programs.