Late registration continues at Holmes CC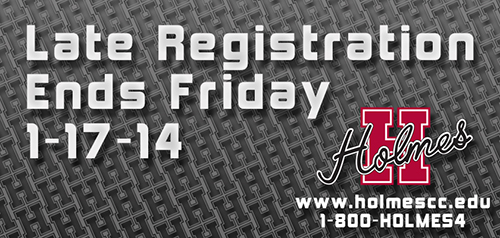 It's not too late to upgrade your education in your downtime at Holmes Community College. Registration continues at all locations of Holmes CC.

Holmes CC offers classes in the traditional face-to-face format, a hybrid format where classes are both in the classroom and online, eight-week short term where classes are completed in half the time, and online through our eLearning program.

For late registration, students can register through web registration or if they need assistance, they can attend one of the following campuses.
· Goodman — McDaniel Hall between 8:30 a.m. and 2 p.m. Jan. 13-Jan. 17.
· Grenada — Corey Forum at 1:15 p.m. and 5:30 p.m. Jan. 13-16 and at 8:30 a.m. on Jan. 17.
· Ridgeland — Adcock Library between 1:30 a.m. – 5:30 p.m. on Jan. 13-16 and 8:30 a.m. – 2 p.m. on January 17.

Evening classes will begin the week of January 13. Late registration for an evening class should be completed prior to the second class meeting. Class enrollment at the first class meeting will determine if a class makes.

Online classes begin on Monday, January 13. The last day to register for an online class at Holmes is Tuesday, Jan. 14.

Enroll online now for all classes at holmescc.edu. Click the Enroll Now! tab to upgrade your education!