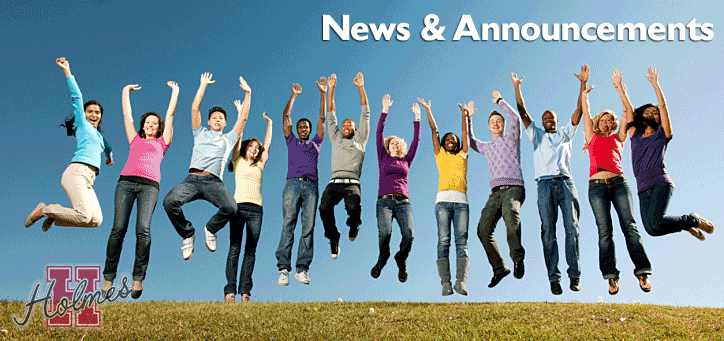 Archives: 2012 | 2013

The Office of Communications at Holmes Community College is responsible for all news and announcement content for the College. For more information on News & Announcements, e-mail Steve Diffey, or phone (662) 472-9068.
President's/Dean's Lists named for Fall 2014

Dr. Daniel Wentland, an instructor in the Business Administration Department at Holmes Community College's Ridgeland Campus and graduate adjunct faculty member at Jackson State University, is proud to announce the release of his fourth book, Is Your Organization a Great Place to Work?

The Holmes Community College Grenada Center has received a $10,000 donation from Advanced Distributor Products (ADP) of Grenada.

On Friday, December 12, Leona "Sissy" Pierce will walk the halls of Holmes Community College's Grenada Center one last time.

Quilts made by Jackie Watkins, administrative assistant/inventory on the Ridgeland Campus of Holmes Community College, are currently featured in the Mississippi Arts Commission Folk Art Apprenticeship gallery.

Holmes Community College sophomore Marvin Miller of Madison was awarded the 2014 Mississippi Association of Developmental Educators (MADE) Student Scholarship during the 33rd Annual MADE Conference.

The Alpha Lambda Sigma chapter of PTK will be hosting Lee Anne Bryan, Educational Specialist at the Eudora Welty House & Museum, on Dec. 8 at 12:30 p.m. in Science Building East Room 126.

A major goal of the Natural Sciences department at Holmes Community College is to provide science students with continuing educational and eventual work opportunities.

For the fifth year in a row, two Paralegal Technology students Holmes Community College's Ridgeland Campus were recently honored by the Mississippi Paralegal Association (MPA) for placing in the 2014 Student Essay Contest.

To help accommodate those negatively affected by this change, Holmes Community College's Ridgeland Campus expanded its GED center, offering a "fully-loaded" full-service preparation and testing center, open to the public in the McGowan Workforce Training Center.

The Holmes Community College music department will present the annual festive concert "Carols of Christmas" in McDaniel Hall Auditorium on the Goodman Campus on Tuesday, Dec. 2 at 7 p.m.

The 28th Higher Education Appreciation Day - Working for Academic Excellence (HEADWAE) recognition banquet in February , 2015, will be attended by Holmes Community College's two honorees: Ms. Cindy Dugan and Ms. Lily Fran McCrory.

In an effort to promote degree and credential completion among Mississippi's community college students, Phi Theta Kappa honor society chapters at each of the 15 community colleges will coordinate campus-wide Community College Completion Challenge (C4) events the week of November 17.

Five students in the Power Tool Application class at the Goodman Campus recently showed off their handiwork as part of their four major projects in the class.

Twelve students from Holmes Community College in Goodman were selected to perform in the 2014 All-State Community College Honor Choir that was hosted on the campus of The University of Southern Mississippi in Hattiesburg Sept. 29-30.