Visual Arts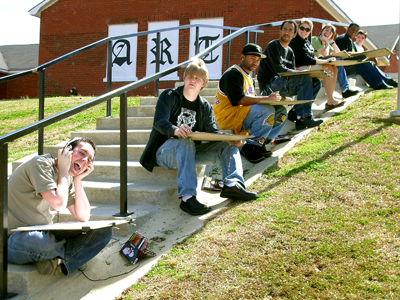 The Holmes Community College Fine Arts Department strives to provide superior-quality music and art programs using a university-parallel curriculum that will enable our students to transfer to the senior college/university on an equal basis with other junior level students.

We strive to perform cultural concerts on campus and throughout the nine-county district of HCC for entertainment and student performance. We also sponsor on-campus artistic events from other schools and universities and professional performing groups and provide facilities and personnel to host cultural and community activities, performances, and presentations.

Options for Artists
If you are an artist and would like to continue your study of art in a professional environment, then Holmes Community College is the place for you! We offer a variety of studio and lecture classes that will introduce you to methods and materials used in the field of art. All studio art supplies are provided at no cost to the student, which is one of the unique advantages offered through Holmes.
Course of Study
The curriculum follows the basic art major core and students would finish the academic core for transfer to a senior college. The art core includes but is not limited to the following:
Art History I &II
Drawing I & II
Painting I & II
2-D Design I & II
3-D Design
Ceramics